Class Description:
In this on-line playshop we'll explore quick and easy ways to create Santa Claus and St. Nicholas figures using push molds, polymer clay, paper, wire, paint and fabric. Use the information to make one character or return again and again until the class registration expires on Dec. 22.
Materials available 24/7 until Dec. 22, 2016.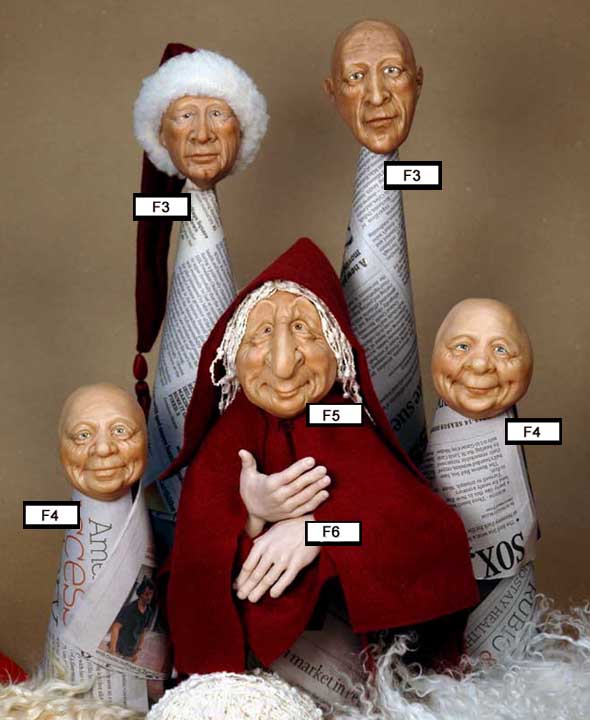 Santas can be a last-minute gift, a focal point for a table or mantle display, or just for fun.

Finished sizes range from 10 inches to 24 inches tall. No two ever the same! Quick and easy patterns. You get to choose the type of Santa depicted and the size.
For figures that are 11 to 24 inches tall we'll be using:
What a Character molds F3, F4 and/or F5 for the faces and F6 for the hands. If you want smaller hands, you can also use hand mold
For slightly smaller characters, 9 inches to 12 inches tall, you might choose to use molds F1 or #17 for the faces and #11 for the hands.
Of course you don't have to use more than one face mold as each mold can be tweaked to create a multitude of faces. If you're not familiar with these molds you can see them at http://www.weefolk.com/molds_list.htm .
Purchase of molds is not required. You can also use your own molds or faces that you sculpt . In that case you would just use our techniques and patterns.

These will be fun and friendly Santa designs, not labor intensive or detail perfect. Quick and easy patterns make these Santas and Elves a Do-in-a-Day projects! Well, that might be a slight exaggeration. Maybe a couple of days!!!!!?
HOW IT WORKS:
Register for the class via the link at the bottom of this page, by phone or via mail. Registered students will be sent a materials list as well as directions for accessing the private webpages on Yahoo.com and Vimeo.com.

READ THIS WELCOME LETTER FROM MAUREEN:
How It Works: Santa Playshop OnLine.pdf
Additional DVD Option for Students Who Took The On-Line Class: If you have a slower internet connection which makes watching the videos cumbersome, or if you would just enjoy having a DVD copy of the class materials so that you can work off-line, then you might consider purchasing the class DVD.

NOTE: DVD viewable only on Computer: not for use with TV.

This DVD includes all of the class videos plus the pdf files for the patterns, supply list, class outline and resources. It will not include the photos or class comments/questions which are posted in the Yahoo group.

Note: The DVD is available to registered Santa Playshop On-line Class students for an indefintie period of time after the close of the class. See the PURCHASE DVD button below.
Date and Time:
Materials will be posted on-line through Dec. 22, 2016, with Dec.15 being the last date to register.
Registration open until Dec. 15, 2016

Registered students can access the materials as often as they like until the closure date of Dec. 22, 2016.

Requirements:
High-speed Internet Connection Recommended
Experience Level:
All Levels

Format:
On-line class with pdf files, videos and on-line class sharings posted for you to access 24/7 according to your own time schedule
Class Minimum: 1
Class Maximum: 53

On-line Class: $45
includes access to both the Yahoo and vimeo
ON-LINE private Santa Playshop Groups and all private class videos and pdf files

Santa Playshop Files and Videos on a DVD (computer files only, not for viewing on a TV):
An additional $20.00
NOTE: This offer is only available to students who took the on-line class.


Order class and DVD separately.
Order links are at the bottom of this page.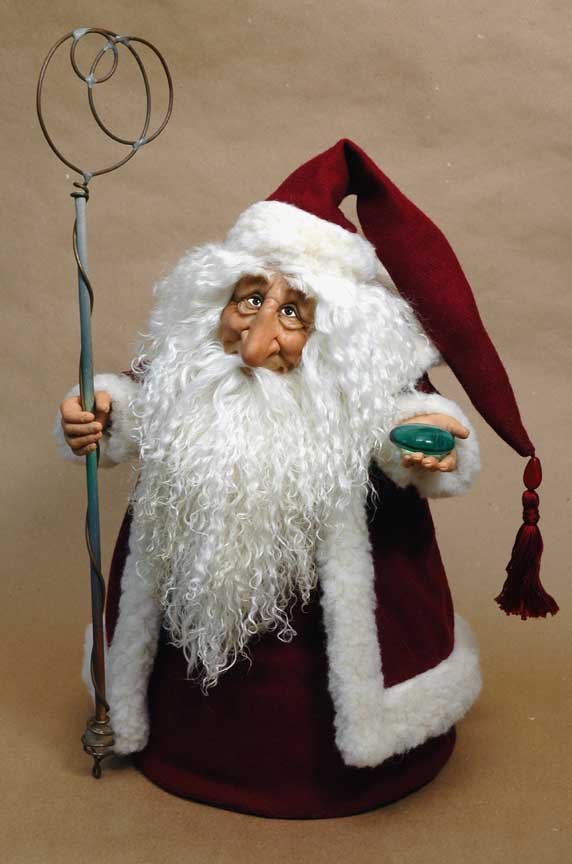 UNTIL THEN: To get started, view our free videos at https://www.youtube.com/user/
weefolkcreations
The videos that most relate to this on-line class are:
How To Use our 3-inch Face Mold
How to Use Our 2-part Hand Mold